Great Features
Readable on any device
Less and less web browsing is done at a desk on a standard desktop pc these days.
A very high percentage of your website visitors will view your site on their smartphone or tablet and your website needs to be ready for that.
The techie term for this level of preparedness is responsive design and you can be assured that your new site will boast the most up to date design making sure that it looks great on any screen including mobile phones and tablets.
Better than that, I will personally make sure that your site is always up to date with the latest software and security measures.
Easy Content Management
Your site comes complete with an easy to use Content Management System (CMS) so you can update your site with new information at will.
You will have a full suite of training resources including a comprehensive manual, short bite sized instructional videos and unlimited email support.
Adding new pages, news items and photos is a breeze. If you get stuck, you can ask for help any time.
professional email addresses
When you use free or generic email, it can look a little less then professional.
With your new premium website I will configure up to 3 email accounts for you so that your email looks professional and slick.
For example, you can have email addresses for your club officials such as president@yourclub, secretary@yourclub etc, so you can project a really professional image to the outside world; no more ugly free email addresses!
All the details
With your initial site set up you get all of the following: 
A great web address like "my.bowls-club.co.uk" giving your club a professional look.

Your site fully designed and set up with home page, about page, contact page with Google map and a blog (premium) where you can publish your club news and results anytime you want.

Easily upload, display and edit your Fixtures (premium sites)

Premium sites feature up to 3 email accounts set up and configured for you such as president@yourclub, secretary@yourclub etc, so you can project a really professional image to the outside world; no more hotmail!

Your site designed, built and professionally hosted by the web designers at bowls-central.co.uk (we work with and understand bowling clubs).

Easy Content Management System so you can add news and updates at will.

Private "Members Only" area to post club sensitive information.

Free 500mb web space so you can expand your site with more pages and content as you see fit.

Infinite expandability in the future; most other offers leave you stranded with a static 4 page website; our sites are dynamic, up to date and fully expandable to any level of functionality you decide on in the future including e-commerce, members only areas etc.

Responsive design making sure that your site looks great on any screen including mobile phones and tablets.

Get started today with our Premium site offer at just £99 per year.*
Order your site Today!..
…and you can be enjoying a great new, professional web presence very soon.
email John with any pre-purchase questions.
After checkout you will be redirected to a page where we will gather some information about your club for the new site.
*Annual pricing is locked in for good…no future price rises guaranteed.
What others are saying: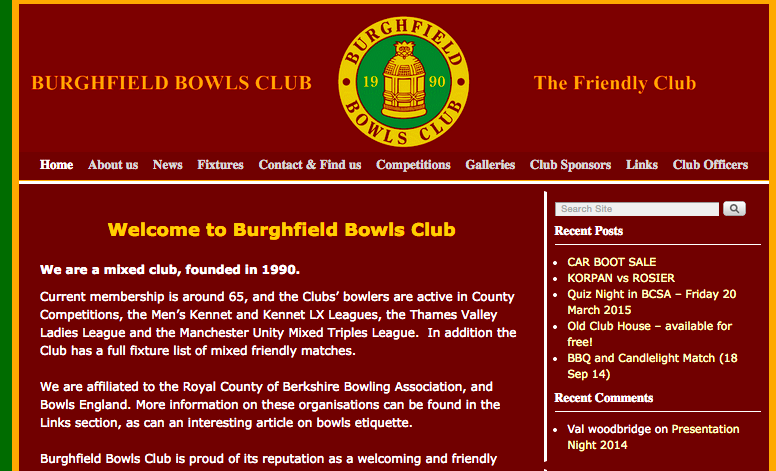 Burghfield Bowls Club
This new website has enabled us to advise members of the progress of the club relocation, the building of the new green and to keep the local community and other bowls clubs whom we deal with up to date with what is going on at Burghfield Bowls Club, and of where we are!
We believe our website is now one of the most informative, and modern websites out there.  It is a focal point for our fixtures, leagues, club competitions and gallery of our move and successes both on and off the green.  Also, with our club name in the URL, we are easily found through most web search engines. We are certain bowls-central have played an essential role in making Burghfield the club we are today.
David
Burghfield Bowls Club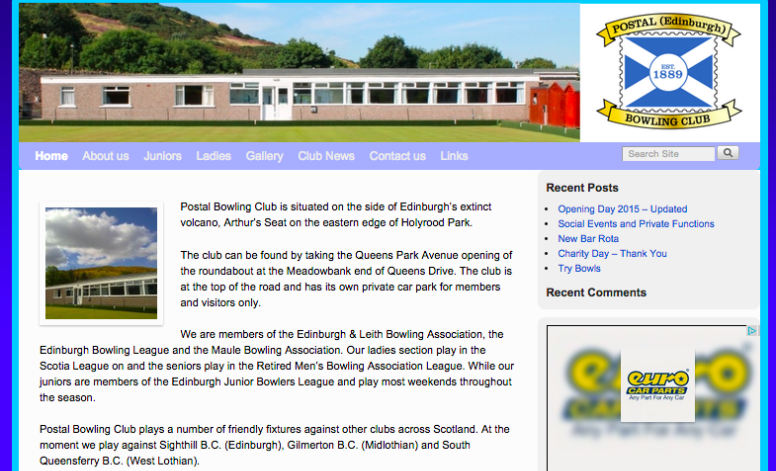 Postal Bowls Club
"Bowls-central provide a simple and professional service for club website design.
After the site was designed John set us up with a simple template to help with updating the site.
Updating is as easy as writing an email or word document.
John is always there and very helpful when it comes to the more difficult bits."
Peter,
Postal Bowling Club, Edinburgh