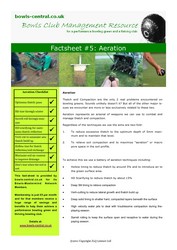 Only £1.97 Each
These one page fact sheets are the quickest way to communicate issues to your members. Simply click on any of the buttons to purchase the factsheets you need today.
You can then print these out to display on your clubhouse notice board, collate into a file for continuous reference or distribute to the members of your committee to communicate any issue effectively and clearly before discussion.
Click on any of the buy now buttons below to access a detailed fact sheet covering the causes, effects and solutions to all your green management problems and issues.
The titles without a button aren't live yet, but we've included them to let you see the wealth of new factsheets that are coming over the next few months.
Bowling Green Issues
Aeration 




Mowing 

Over Seeding 

Soil Fertility 




Irrigation

Worn Heads 

Fungal Diseases 

Localised Dry 

Patch 

Insect Pests 

Autumn Renovation 

Green Speed 

Green Consistency 
Club Management Issues
Club
Optimisation
Member Retention
Sales
Reducing Costs
Cashflow
Generating a Surplus
Marketing
Staff Management
Equipment Management
Release Profit from Waste
Health and Safety
Whole Business Analysis