Although we all want to get back to normal as soon as possible, it is becoming increasingly clear that things might not return to the way they were before the virus for a very long time, and that this period of uncertainty will possibly be counted in years rather than months.
To comply with Government guidance on re-opening your bowling green it is important that you have an off-site booking system, and of course for future track and trace requirements this would preferably be an electronic system for allocating games and keeping records of green use.
This presents a major logistical challenge to most clubs as there will need to be a system for allocating green use in a fair and preferably hands off way.
There will also be a need to maintain an on-going record of attendance at the green for the foreseeable future in order to comply with any future track and trace requests.
Most importantly, clubs will have to try to meet this new list of requirements in a way that has a minimum requirement for labour and of course that is cost effective.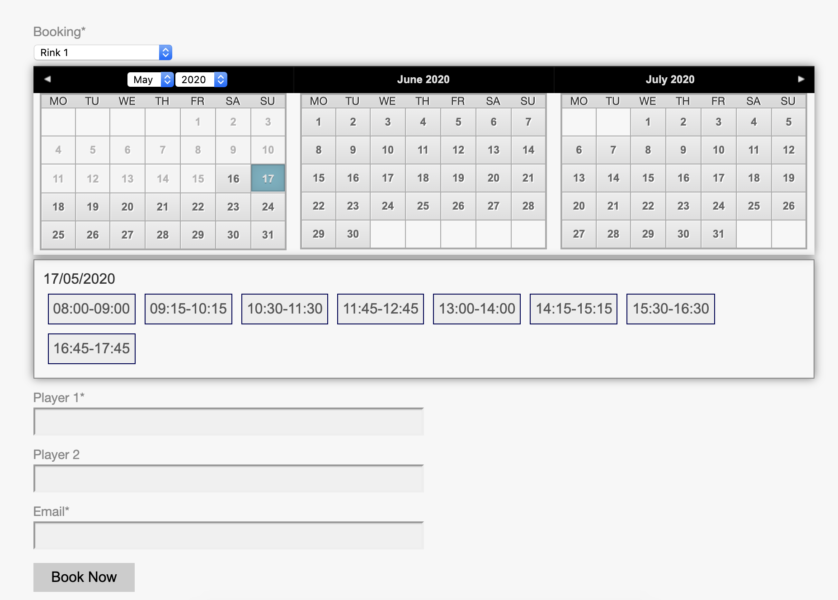 Bowls Central has developed a simple to use system for bowling clubs which can either be integrated with your current WordPress website or set up as a stand alone mini booking site for your club.
Key Benefits
Your Green Booking System will allow you to specify:
the number of games you want on the green
the number of players in each game
the number of sessions that can be booked in a day, the duration of games and the amount of time you want to leave free between games to ensure social distancing is maintained.
and…
Helps clubs comply with Covid-19 re-opening guidance
Simple to use and manage
We format the system to your Club's specific requirements before it goes live.
Helps your club Manage data on who is playing and when they played for record keeping
Downloadable reports for ease of management
Infinitely customisable so that you can use it even after the Covid 19 crisis for general club management and allocation of resources other than the green e.g. function rooms etc.
On Stand Alone sites Members can use the system as an App on their iphone or android phone.
Try it out now!
You can try the system out on our test site to see how easy it will be for your members to make a booking:
Main Features
Our green bookings system has been designed for ease of use and a certain degree of automated management to save you time and effort.
Easy to use with a very small learning curve
Easily Adaptable for Flat Green and Crown Green* Disciplines
Allows club members to pre-book a rink or game without visiting the club
Automated system records bookings and produces reports for you to keep on file.
Impossible to make a double booking as each slot is removed from availability as it is booked.
Records names of those playing and the email address of the booker so you can follow up with them if needed
Secure and detailed records of green use, should you need it for track and trace cases in the future.
Can be added to a password protected page so that only members can access the system
Minimal administration required
Easy Bookings Management and Record Keeping
Managing your bookings and keeping thorough records is a breeze with both visual schedules and lists.
Bookings Management and record keeping can be fully automated with reports sent to the administrator as a spreadsheet at intervals you choose, such as daily, weekly etc.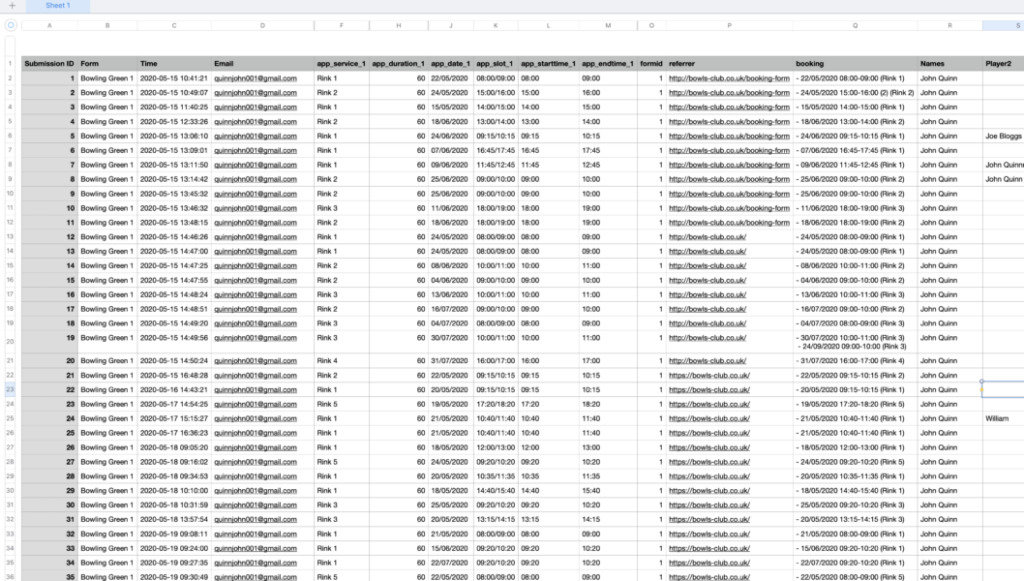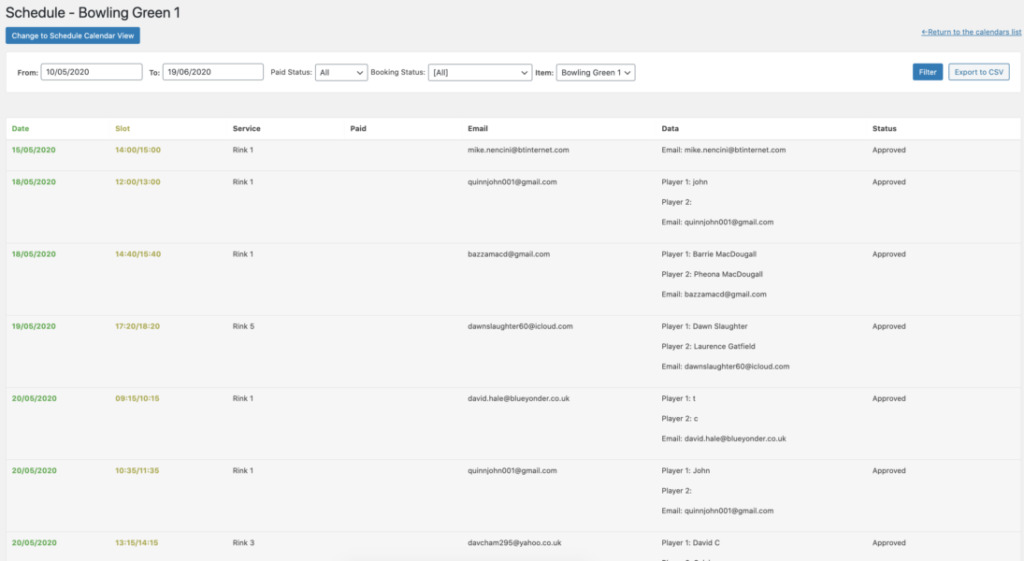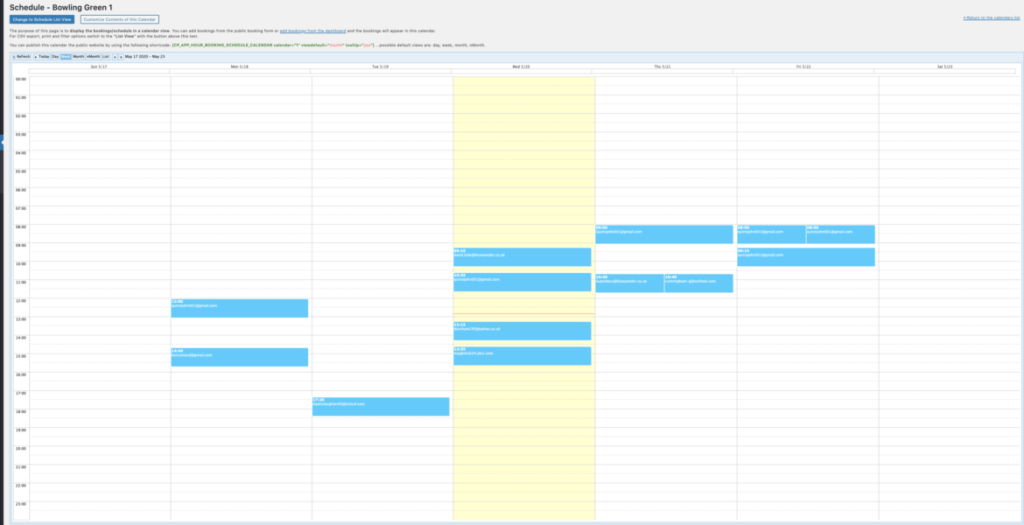 * Crown Green
Without the flat green discipline of rink segregation, Crown Green bowling clubs with games criss-crossing the green will have to rely on limiting the number of games and the number of players on the green in any one session to achieve correct social distancing.
This application enables the club to set the number of games and the number of players in each game according the size of the green and the level of risk assessment. It can also be edited to reflect the terminology used, for example 'Rinks' can become 'Blocks'
Purchasing Options
Academy Members should purchase the Green Booking System from the Academy Members Area where there is a further discounted package available to them.
Option 1. Integrated booking system
Terms
In addition to our usual terms and conditions of business, the following will apply to green booking system sales.
Option 1 only available for Bowls Central sites hosted on our bowls-club.co.uk domain
The Option 2 site will be set up on our UK based server with free hosting for 1 year.
Option 2 Hosting renews at £59 per annum thereafter.
Domain Name not included, but can be supplied on request, or you can have a domain name on bowls-club.co.uk (e.g. yourclubname.bowls-club.co.uk) free of charge.
Initial set up for your Club's specific Covid-19 reopening requirements is included.
Further development of the system to accommodate other features and bookable resources can be undertaken on request, please ask for a quote.