If you've been redirected here from Hole18.co.uk, it's because I decided to collate all of my work related to fine turf here at Bowls Central. This site is of course focussed heavily on the great sport of lawn bowls in all its forms (except those horrible artificial greens of course!).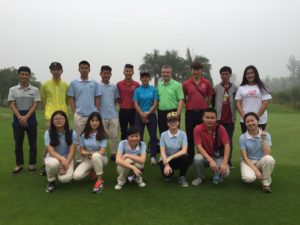 BUT..I'm also trying to forget how long I've been maintaining, building, designing and teaching people and being taught about maintaining golf courses…it's been a long time  ;-). I raked my first bunker in 1981!
Just about all of the material on this site is applicable to golf greens too. There's a lot of writing and resources on Bowls Central that you can take and apply directly to your golf greens, whether they are traditional "push up" greens or modern USGA construction.
Golf Specific Advice
I am always aware of the need for more specific advice for golf course greenkeepers and clubs and a good deal of the queries landing in my inbox are from Golf Course Greenkeepers. 
Hole18.co.uk
My previous golf related site hole18.co.uk now redirects here, so please feel free to ask any golf related questions you have. You can get in touch using the contact form for Advice, Consulting and Products information.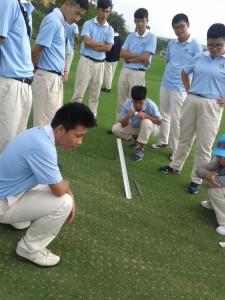 Most of the advice on here and all of the products I recommend are applicable to golf course greenkeeping, although you might need to contact me about a golf course sized version at times (compost tea brewers being an obvious one).
My passion for Natural Greenkeeping was nurtured on golf courses, and yes even (especially) on USGA specification greens.
We can be in control of our greens with a very light touch on the tiller…no need to bombard them with chemicals. Here's my biggest revelation: More fungicide used = more disease encountered…think about that for a moment and then read the article at the bottom of the page. 
Hire me to Help
You can hire me to help you with your project. I'm writing this in December in Perthshire, Scotland, so projects in Hawaii, Mauritius and Australia will be prioritised over those in Inverness 🙂 . Seriously, I am available to help with all Natural Greenkeeping related projects, especially in beautiful Inverness! Drop me a line with no obligation.  
Just Ask
Please drop me a line about anything golf greenkeeping related here and I will reply within 24 hours guaranteed.
Read
Meantime, all of the posts below are valuable to golf greenkeepers who want to grow fine grass greens without the Poa annua, so please read on.