Description
Easy to spread organically sourced slow release fertiliser – 2-4 mm granules
Manufactured from Soluble Condensed Molasses
Organic Matter 45% – Fulvic Acid 25% – Amino Acids 11.5%
Excellent Low Light Cool Season Fertiliser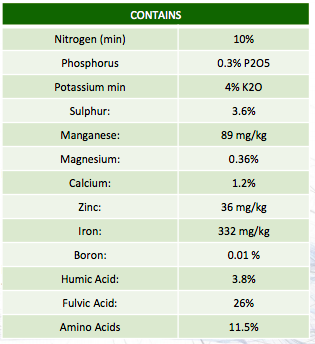 A 10-0-4 LOW SALT ORGANIC GRANULE containing slow release nutrients, fulvic and humic acids and amino acids combining slow release nutrition with excellent biostimulant and soil building properties.
BENEFITS BIOLOGICAL
Stimulates the growth of soil microbes
Supplies bio-carbon and other nutrients for microorganisms
Enhances root formation
Enhances plant nutrient uptake
Stimulates plant growth
Better seed germination
CHEMICAL
Excellent chelating properties
Increases Cation Exchange Capacity
Releases lockup up nutrients
pH 4.6 – 4.8
Improves nutrient retention.
Improves the distribution of calcium
Reduces sodium uptake in plants
PHYSICAL
Improves friability of heavy and clay soils.
Improves soil structure and water infiltration.
APPLICATION 35-50g per m2 . Apply from early spring to late summer. When applying to sports pitches please note that the granules may take up to 7 days to dissolve, the granules may mark clothing until fully dissolved