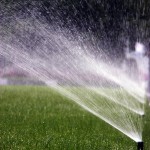 Irrigation is on everyone's mind at the moment, but how much is enough?
As a general rule greens lose approximately 3-4mm of moisture per dry day to evapo-transpiration, although this can vary with conditions; that's approximately 25mm or 1 inch per week.
Again a very general rule is that many of the more popular automatic sprinkler systems will apply around 1mm of water for every 2 minutes of run time.
So again as a general rule to replace a week's worth of losses you should be running the sprinklers for around 50 minutes in the week.
Now I will add a qualification or four to that:
requirements can vary widely depending on location and conditions.
don't apply light applications on a nightly basis, try to group these into heavier and less frequent applications for best effect.
try to move to a water balance sheet type system to manage irrigation more accurately…it will pay off quickly
don't rely on a typical bowling green irrigation system to apply water evenly or in sufficient volume…always check and measure what you are doing.
Irrigation management and water balance sheets in my book Performance Bowling Greens.
any questions please ask!