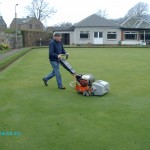 Whatever the season, mowing remains the most important job in the maintenance of a Performance Bowling Green.
Often overlooked due to the everyday nature of the task, there is a lot more to mowing than meets the eye. It is particularly important to follow the correct mowing regime to ensure green consistency and speed. More detailed information on green speed and consistency here.
At this time of year in the run up to the new season, it's especially important that we get the mowing program right.
During the winter the green surface should have been maintained at a mowing height of around 8mm. In very cold winters, you will see some recession in height and this is difficult to avoid. However, in mild winters, like the one most of us have had this year it is quite normal for the green to keep growing throughout the winter months and this growth needs to be kept in check to minimise the outbreak of diseases and other problems associated with lush winter turf.
Now that the new bowling season beckons we need to gradually lower the cutting height and I would suggest taking it down to around 7mm this month, aiming for 6mm by opening day and 5mm by the end of May, all dependent on soil temperature and prevailing weather; we can still be in the grip of icy cold winds at Easter.
Mowing frequency will be dictated largely by growth rate, but once a week now should be the minimum, bearing in mind that you don't want to be removing more than a third of the leaf at any one time. So, if the green is growing vigorously, then more frequent mowing will be required.
Of course its tempting to keep the work to a minimum, but mowing will also help to lightly roll the green surface, so it might be beneficial to mow more frequently than is actually required.
The most important factor in mowing is ensuring that the mower is razor sharp and that there is zero contact between the blade and cylinder to give the cleanest and least damaging cut to the grass leaf. More detailed information on mowing can be found here.
Tomorrow we will look more closely at the pre-season renovation work required on the green, with a look at some do's and don't's.