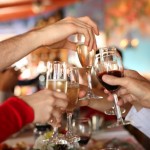 At this point in the season, when the club is buzzing with life and the match secretary is running around like a decapitated chicken, the bar is busy and there is a general air of optimism…it is easy to overlook the longer term planning needed for club survival and turnaround.
One of the main action points from the Club Success Manifesto was to:
Define your club's unique position in your community
…there can be no better time to get started on this. If you were a prospective club user or customer or member what would you rather see? A buzzing hive of activity and sociability now, or an empty, poorly heated clubhouse with very little sign of life in the dead of winter?
If your club is struggling, if survival over the coming 5 years isn't assured, you can't afford to not be doing this; introducing your club to the wider community and making sure you start the transformation of your club's fortunes through the softer, people focussed actions, long before you do the easy stuff with trowel and paint brush!
The Manifesto is still available for free here.