Last time, we used all of our senses (nearly) to evaluate the current condition of the green in order to formulate a plan for getting the green ready for opening day. I hope you've had time to get a list together, because I want to focus on dealing with the issues you've found in the next article in this series. Today though, it's a timely reminder that we're still in winter mode and also that we need to think about getting the mower ready.
Two important points:
We are still in Winter Maintenance mode despite Opening Day looming on the horizon.
It's easy to undo a lot of good work with an ill prepared mower.
De-compacting with the Slit Tiner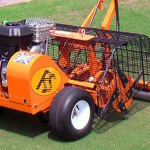 This means that the vital winter maintenance detailed in the Performance Greens Program must go on and one of the most important of these operations is deep slit tining.
Regular deep slit tining to 150mm from October to March is still the most effective method of de-compacting greens and of maintaining them at a manageable level of compaction, without causing damage below the rootzone layer. The trick with this

please log in or register for a free membership to continue reading