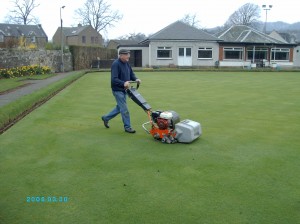 Last week's post on green-speed has raised a few questions, a lot of them along the lines of
"How can we afford to cut the green 7 days a week?"
In the introduction to my book Performance Bowling Greens I speak about the danger of traditions.
Traditions are funny things, because they don't actually seem to need to be very old, or for that matter very sensible for them to take hold; they only need a bit of support from a few people and Bingo! They are "new" traditions.
One of the quirkiest? Cutting the green on Monday, Wednesday and Friday, usually early in the morning. Why has this become a tradition at many clubs?
Well it probably boils down to cost mainly and perhaps convenience and possibly a little bit of misunderstanding of the growth pattern of greens.
Following this cutting plan those playing on Monday evening, Tuesday, Wednesday evening, Thursday, Friday evening, Saturday and Sunday are not seeing or playing the green at anything near its best!
That leaves a lot of potentially dissatisfied customers!
So in answer to the question at the beginning, another question:
How can you afford not to?
However, in Bowling Club Turnaround terms remember dissatisfaction can actually be a good thing as it gives you a huge opportunity to move things to a better state and make an overall positive gain from an otherwise negative situation.