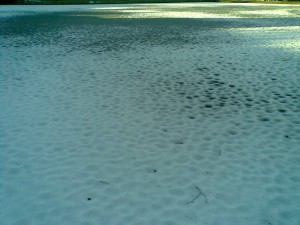 Thanks to everyone who downloaded the free winter maintenance report at the start of the winter.
Now here we are approaching the Christmas holidays and I don't think many of you will have been able to implement much of the work that I recommend both in the Winter Maintenance Guide and in Performance Bowling Greens, a practical guide.
This is of course due to it being too wintry!
Well the good news is that if you made even a start to the recommended autumn/ winter compaction relief work by getting one or maybe two passes made with the deep slit tiner, then the frost will be doing a lot of good by getting into the soil and heaving it into fissures in the compacted zone.
However, the bad news is two-fold:
it is going to prove difficult to do any work on greens throughout most of the UK this winter due to excessive frost and snow cover on greens; The winter program is essential and if your particular corner of the nation is free of frost and snow you should bash on with the winter work as much as you possibly can.
The worst effect of this excessive cold weather is that the soil temperature is being forced down to levels that we don't usually have to put up with very often.
This second point is very important and will become increasingly so in the months and years to come.
What's the problem?
Well, my old Mum has a saying: "We've never died a winter yet", which of course means that we are resilient and can adapt our approach to life to cope with whatever it throws at us.
Is it time to apply this thinking to our bowling greens; do they need further protection from the winter than we currently afford them?
Although I am not advocating a panic buying type situation I do think it is time for us to look at Read more