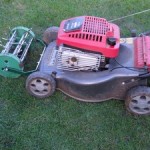 Straight after my request for guest posts/articles Doug Smith shares this labour saving idea for light aeration of the green. This follows on from Rob's recent post on hand fork aeration. I'll let Doug do the talking now:
Hi John, I have been reading your advice  on green Aeration, the one on using a fork, I too have used a fork to

do the job, but only for a short time, I found it took far to long, and very hard work, so I gave it some thought,

and adapted  my lawn mower, [see photo,] I use it on my home lawn, twice a month, and on the Bowls green.

hope this is of some use to your readers.

Regards Doug Smith
Thanks very much Doug for sharing this with us and hopefully it will be the first of many from readers in the coming months.